When it comes to styling black pants and brown shoes, many people often hesitate due to the fear of committing a fashion faux pas. However, with the right approach and guidance on how to style black pants and brown shoes, you can create an elegant and sophisticated look that defies conventional norms.
In this blog post, we will delve into various tips for wearing brown shoes with black pants while maintaining a professional appearance. We'll explore different types of brown shoes that work well with black trousers, as well as the best shirt colours to pair them with.
Beyond clothing choices, accessorising plays a crucial role in pulling off this unique combination. Therefore, we'll also discuss appropriate accessories that complement your ensemble effortlessly. Lastly, our FAQs section will address common concerns related to styling black pants and brown shoes so you can confidently wear this fashionable pairing without any doubts.
Tips for Wearing Black Pants and Brown Shoes
Pairing brown shoes with black pants might seem like a fashion faux pas, but it can actually create a stylish and contemporary look when done correctly. Here are some tips to help you pull off this combination successfully.
Choose the Right Shade of Brown
The key to making brown shoes work with black pants is selecting the right shade of brown. Opt for darker shades such as chocolate or espresso, which will complement the black pants without creating too much contrast. Lighter shades like tan or camel can be considered but make sure they blend well with the rest of the outfit.
Black Pants and Brown Shoes: Select Appropriate Footwear Styles
Not all types of brown shoes will pair well with black pants; choosing the appropriate style is crucial in achieving a polished look. Classic options such as Derbys, Oxfords, Chukka boots, and Chelsea Boots work well in most situations, while more casual styles like sneakers should be avoided unless dressing down intentionally.
Pick Your Socks Wisely
Socks play an important role in tying together your outfit when wearing brown shoes and black pants. Stick to neutral colours like grey or charcoal that bridge the gap between your shoe colour and pant colour seamlessly. Avoid bright patterns or bold colours that draw attention to the contrast between your shoes and pants.
Balance Your Outfit with a Coordinating Top
To create a cohesive look, choose a shirt or sweater that complements both your black pants and brown shoes. Neutral colours like white, grey, navy blue, or even light pastels can help tie everything together. Avoid wearing too much black on top as it may make the outfit appear unbalanced.
Mix in Patterns and Textures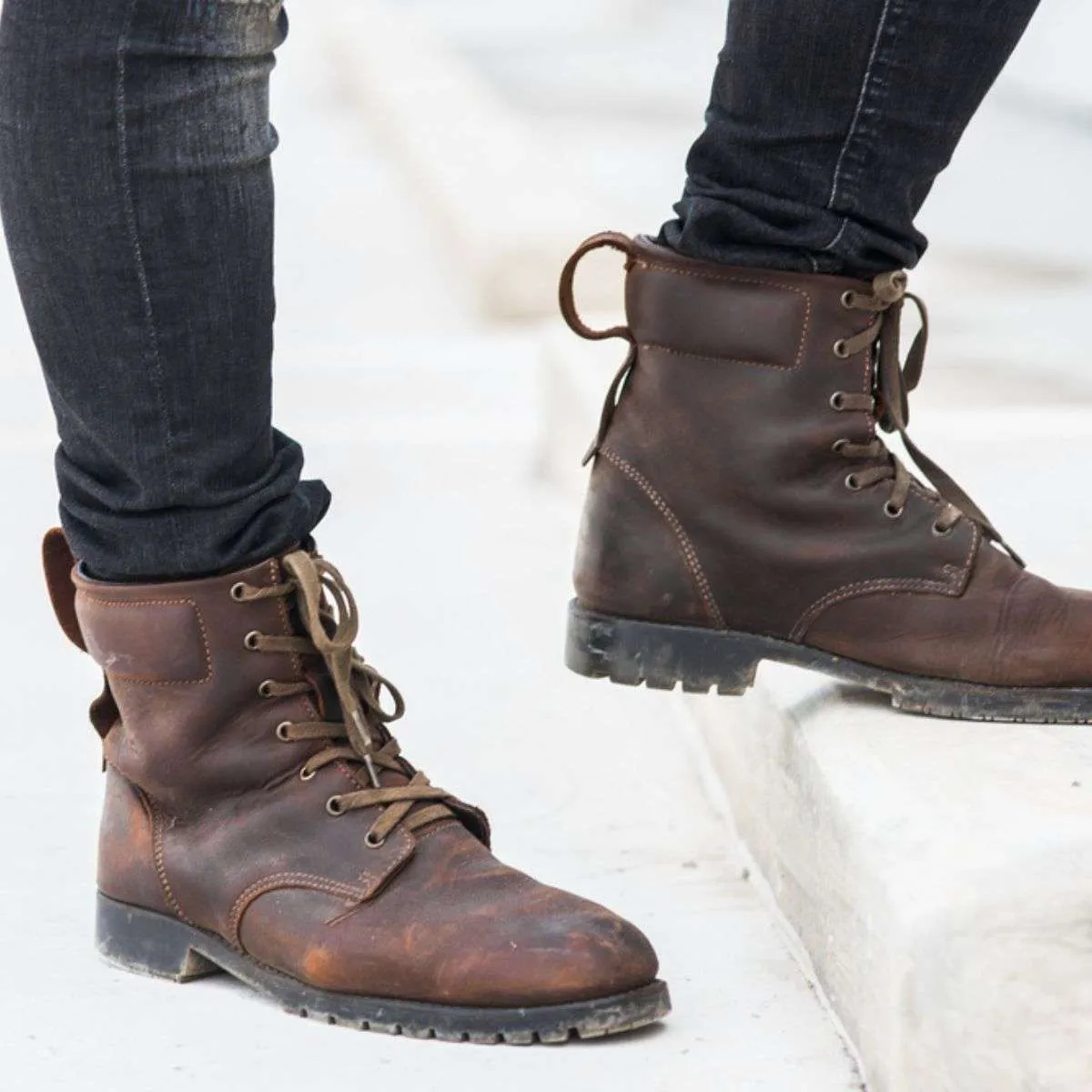 Incorporating patterns and textures into your outfit can add visual interest while also helping to blend the contrasting elements of brown shoes and black pants. For example, consider pairing jeans with leather boots or textured wool slacks with polished leather monkstraps.
When wearing brown shoes with black pants, it is important to consider the colour of both pieces and ensure they complement each other. With that in mind, let's explore different types of brown shoes available for pairing with your favourite black trousers.
Types of Brown Shoes
Incorporating brown footwear into your wardrobe can be achieved by choosing the perfect style to achieve your desired aesthetic. Whether you opt for classic Oxfords or trendy Chelsea boots, these stylish options will elevate any outfit featuring black pants.
Here are some popular types of brown shoes that work well with black pants:
Derbys
Derbys, also known as bluchers, feature open lacing and a more casual design than their Oxford counterparts. They're perfect for dressing down a formal outfit or adding polish to a casual ensemble.
Oxfords
Oxfords are characterised by closed lacing and offer an elegant, timeless look suitable for business meetings or special occasions. A dark brown pair will provide contrast without clashing against your black pants.
Chukka Boots
A versatile option for both dressy and casual outfits, chukka boots typically have two or three eyelets and reach just above the ankle. Pair them with slim-fit black trousers for an effortlessly stylish appearance.
Chelsea Boots
Sleek and modern, Chelsea boots were made famous by The Beatles in the 1960s but remain fashionable today thanks to their minimalist design. The elastic side panels make them easy to slip on and off, while the streamlined silhouette complements a variety of outfits.
Monkstraps
Monkstraps are unique in that they feature one or two buckles instead of laces. This detail adds visual interest without sacrificing sophistication, making monkstraps an excellent choice for those looking to stand out from the crowd.
Now that you know the types of brown shoes out there, let's take a look at which shirt colours work best when pairing them with black pants.
Best Shirt Colours to Pair with Black Pants and Brown Shoes
When it comes to pairing shirt colours with black pants and brown shoes, the key is finding a balance that complements both elements of your outfit. This can be achieved by selecting colors that create contrast or harmony, depending on your personal style preference. Here are some top picks for shirt colors that will help you achieve a polished look.
Classic White
A classic white dress shirt is always a safe bet when wearing black pants and brown shoes. The crispness of the white creates an elegant contrast against the dark trousers while allowing the rich tones of your brown footwear to stand out.
Different Shades
Shades like light blue or grey create a soft yet sophisticated look when paired with black pants and brown shoes. These lighter hues provide enough contrast without being too bold or overpowering.
Light Blue: A versatile option that works well for both casual and formal settings.
Grey: Offers a unique touch of colour without straying too far from traditional options.
Bold Patterns & Prints
If you're looking to make more of a statement with your outfit, consider incorporating shirts featuring bold patterns or prints into your wardrobe. Some popular options include:
Stripes: Vertical stripes in contrasting colours, such as navy and white or grey and black, can add visual interest while still complementing your brown shoes.
Gingham: A classic gingham pattern in shades like blue or red adds a touch of preppy flair to your outfit. Pair it with a pair of sleek Chelsea boots for an effortlessly stylish look.
Incorporating these shirt colour recommendations will help you create well-rounded outfits that showcase both the sophistication of black pants and the warmth of brown shoes. Remember that confidence is key when experimenting with new styles – so wear what makes you feel comfortable and let your personal style shine through.
Accessorising
Now you have a basic look with your black trousers and brown shoes, it's time to make the outfit stand out by incorporating some stylish accessories. Accessories can elevate any look and make it more personal and unique. Here are some suggestions for accessorising when wearing black pants and brown shoes:
Belts
A belt is not only functional but also an essential accessory that adds cohesion to your outfit. When pairing brown shoes with black pants, opt for a belt in a similar shade of brown as your shoes. This will create harmony between the two elements while still maintaining contrast.
Ties
If you're dressing up for a formal occasion or work environment, don't forget about the tie. A well-chosen tie can add personality to your ensemble without overpowering it. Consider ties in colours like navy blue, burgundy, or even patterns such as stripes or paisley – these options complement both black pants and brown shoes nicely.
Socks
Solid Colours: If you prefer keeping things simple yet classy, choose socks in solid colours like black, charcoal grey or navy blue that coordinate well with both black pants and brown footwear.
No-Show Socks: In more casual settings or during warmer months, you might opt for no-show socks to maintain a clean and modern look.
Watches
A watch is not only practical but also an excellent way to showcase your personal style. When wearing black pants and brown shoes, consider a watch with a brown leather strap, which will complement the colour of your shoes. Alternatively, you can choose a metal bracelet in silver or gold tones that work well with both colours.
Incorporating these accessories into your outfit will help create a polished and cohesive look while still showcasing your individuality. Remember that it's all about finding the right balance between contrasting elements like black pants and brown shoes – so don't be afraid to experiment.
Accessorising your black pants with brown shoes can help you achieve a stylish look that is sure to turn heads. For further information, please refer to our FAQs.
FAQ's
Can you wear black pants with brown shoes?
Absolutely. Wearing black pants with brown shoes is a stylish choice for many occasions. It's important to consider the type of event, as well as the shade of brown and style of shoe when making this fashion decision.
What colour shirt goes best with black pants and brown shoes?
There are several great options for shirts that pair well with this combination. Some popular choices include white, light blue, grey, or even patterns like stripes or checks. Check out our section on "Best Shirt Colours To Pair With Brown Shoes And Black Pants" for more ideas.
Are there any specific types of events where wearing black pants and brown shoes would be inappropriate?
For formal events, such as weddings or galas, it is best to stick with a more traditional attire. However, in most other settings – from casual outings to business meetings – rocking your favourite pair of browns with sleek blacks can make quite an impression.
How do I choose the right shade of brown for my shoes when pairing them with black pants?
The key is finding a shade that complements your overall outfit without clashing against the darker tones in your trousers. Lighter shades like tan or camel work well during daytime hours while deeper hues like chocolate or espresso can make a bold statement for evening events. Our "Types of Brown Shoes" section can help you explore different options.
What accessories should I wear with black pants and brown shoes?
Accessories like belts, watches, and ties can add the perfect finishing touch to your outfit. When deciding on what accessories to pair with black pants and brown shoes, think about how they'll match the two pieces together. For more ideas on accessorising this look, refer to our "Accessorising" section.
What pants go well with brown shoes?
Brown shoes pair nicely with various pant colours such as navy, grey, khaki, olive green, and even denim jeans. Experimenting with different combinations will help you find the perfect balance between formality and style for any occasion.
What colour shoes should a man wear with black pants?
Black leather dress shoes are a classic choice for men wearing black pants. However, other shoe colours like oxblood or dark burgundy can also work well if styled correctly. Here are some tips on how to style brown shoes:
Wearing brown shoes with black jeans is a fashionable pair that can work well for a casual outfit.
Pairing brown shoes with a black suit or black dress pants is a fashion faux pas and should be avoided.
Brown leather sneakers or boat shoes can be a great choice for a casual attire.
Brown derby shoes or dress boots can be a good option for formal shoes.
Brown accessories like a belt or watch band can also complement the shoes.
Lighter shades of brown like tan or light brown can work well with black pants, but deep brown or commonly brown shades are the safest choice.
In conclusion, styling black pants with brown shoes can be a bit tricky, but by following the tips mentioned above, you can easily create a professional and stylish look. Choose the right type of brown shoe to match your outfit, pair it with complementary shirt colours, and accessorise appropriately to complete your ensemble.
Try different combinations to find the look that best expresses your personal style. Try combining different styles until you discover the ideal look that appeals to your aesthetic.