In the world of fashion, the black shirt combination pants stand as a testament to timeless style. Universally flattering and endlessly versatile, the black shirt has numerous looks for the fashion-conscious man of today.
Bring in a diverse spectrum of pants, and you have black shirt combinations ranging from the vibrant hues of reds and blues to the subtle grace of neutrals. A study has shown that black portrays sexiness and confidence, as reported by the Independent
In this guide, we'll embark on the journey of marrying pants of every shade and texture with the quintessential black shirt, unlocking combinations that range from the understated to the bold, the casual to the immaculate.
Best Black Shirt Combination Pant for Men in 2023
Lets delve in.
Black Shirt Combination Black Pants
Black on black is a look that is simple, subtle, and shows off a sense of style. Take away the patterns and colours, leaving you with minimalist textures to show off your silhouette. This formal pant-shirt combination is perfect for an evening out or a casual coffee and brunch.
Whilst black footwear will always work well with this outfit, an alternative would be to try white sneakers for a modern twist.
Combining textures is the way to pull off this outfit. Consider fabrics such as wool in the cooler months and linen or cotton in the milder seasons. Make sure to wear a shirt that fits nicely on the shoulders and has a slim but not tight fit—Accessorise with a black strapped watch to add a touch of coordinated style.
Black Shirt Black Jeans Combination
The black denim and black shirt combination outfit is perfect to show off your sense of style while giving an edgy and refined feel. This combo provides a base for adding layers and accessories.
On the jeans front go for slim fit or skinny jeans. On the top half opt for a fitted or tailored black shirt. In the warmer seasons, go for a short-sleeved fitted cotton shirt.
This outfit lends to itself to be accessorised. Add a silver watch and consider a leather wrist strap for some swag points.
Footwear-wise, opt for sneakers for a casual streetwear vibe or black Chelsea boots or brogues to add some sophistication.
Black Shirt And Grey Pants Combination
Grey pants and a black shirt are versatile combinations that cross over formal and casual settings. This combo is understated and still stylish.
When opting for grey pants, go for chinos, wool trousers or even grey jeans. Keep the pants slim-fitting or even tapered. Adding texture to to the outfit keeps it fresh, consider patterned grey pants and experiment with different shades of grey.
For the feet, black loafers or brogues coordinate well with the black shirt. Trainers or sneakers also pair well with grey jeans.
Not to forget the accessories; just add a silver watch, bracelet or necklace.
Brown Pants with a Black Shirt Combination
Brown pants and a black shirt may not be an obvious pairing, but the contrast makes for a unique look.
Brown pants can come in different types and shades; think chinos, corduroy and cargo pants. Shade wise ranges from light tans down to caramel and chocolate.
When adding a belt to this ensemble, opt for brown—Accessorise with a necklace, and a hint of silver or gold.
Keep the footwear simple and with derbies or oxford shoes, or if adding sneakers, go for brown leather sneakers.
Black Shirt Combination with Denim
Blue denim and a black shirt are a solid combination that blends the classic and casual styles together effortlessly. With a range of denim available from stone wash to indigo they all go well with a black shirt.
By its inherent texture, denim offers contrast and character to a classic black shirt. Layer the shirt with a denim jacket and add some ripped slim fit or skinny jeans for an understated statement look.
If you want to keep it casual, a pair of white sneakers complete this look. Opt for Chelsea boots or brogues for a smarter, sophisticated look.
Wool Pants With Black Shirt Combination
Wearing wool trousers with a black shirt highlights the texture contrast of these two garments, giving off comfort and sophistication vibes.
Wool trousers come into their own during the cooler months and pair well with a wool blazer. The eco-friendly properties also help with the movement towards sustainable fashion.
Whether heading to a business meeting, a dinner date, or a winter evening out with friends, wool trousers and a black shirt can be your go-to.
Add a pair of derby or oxfords to complete the look.
Black Shirt and Blue Pant Combination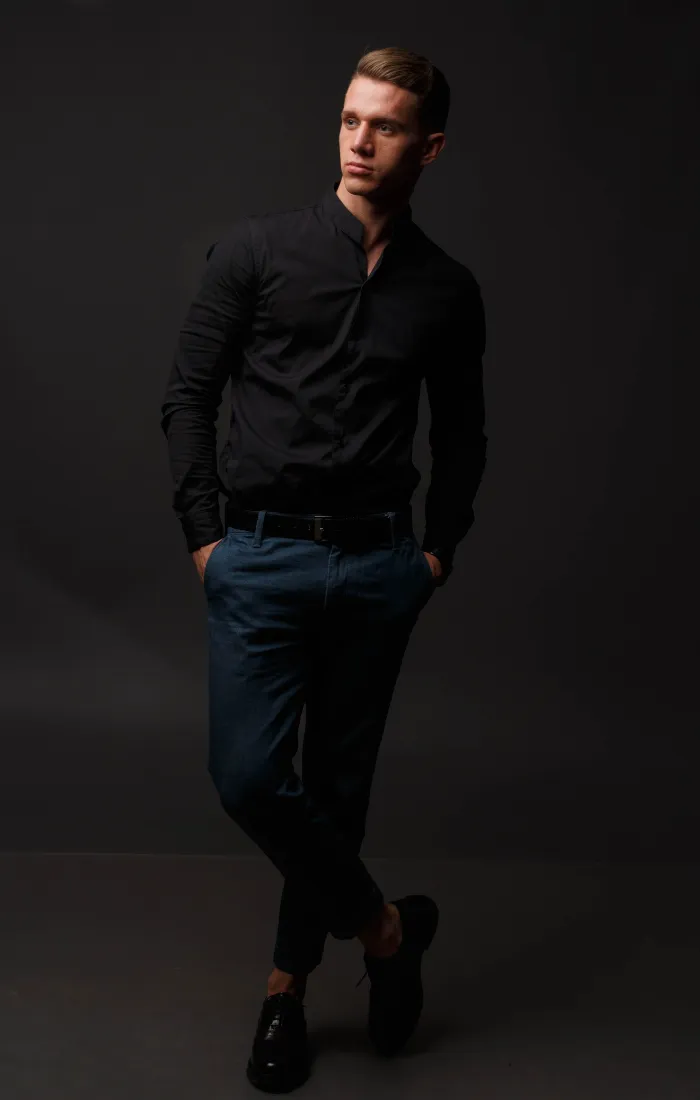 Blue pants offer versatility, making pairing them with a black shirt a breeze. From sky blue to navy blue, each hue can work depending on the occasion.
Go for a lighter shade of blue for a casual brunch, and steer towards the darker shades for blue for an evening out.
Slim fit pants would the ones to opt for, especially when combining with a well fitted black shirt.
Keep the footwear to black shoes, preferably brogues or even Chelsea boots.
Red Pants and Black Shirt Combination
Okay, so red pants or chinos paired with a black shirt may seem a bold combo on paper, but it's an eye-catching outfit.
With a range of red colours and different material types, you have the versatility to make this pairing ideal for your personal style. You have options from maroon chinos to red corduroys to go for.
The shoe choice for this outfit depends on the event, so opt for white sneakers for casual days out. Go sockless if the trousers are of the shorter style. Opt for brogues or even leather boots for evenings out.
FAQ's
I've got patterned pants. Can they work with a black shirt?

A black shirt is an excellent backdrop for patterned pants. Whether it's stripes, checks, or florals, the shirt can help ground the look.
Which colour pants go best with a black shirt for a formal look?
Classic choices include black for a monochrome look, grey for a sleek contrast, or navy for a touch of colour while remaining professional.
Are there any colour pants I should avoid pairing with a black shirt?

Black shirts are versatile, but super-dark shades of colours that aren't distinguishable from black can sometimes make the outfit seem mismatched. It's essential to ensure there's some contrast or complementary vibe.