As simple as a blazer with jeans combination sounds, it's not straightforward; you want to balance the outfit to ensure you don't end up being too formal or overly casual.
Make sure you get the combo on point with this look as it's all too easy to wear a formal blazer with the wrong pair of jeans, and make a fashion faux pas.
The versatile blazer has a long history, so getting it right could set you up with outfit choices you can adapt to different occasions for years.
To nail this look, it's about finding the right pieces that complement each other and have the right texture. You want to find pieces that match your personality and your style.
Where would you wear a blazer with jeans?
So you're thinking, when would you wear a blazer with jeans? Well, it all comes down to the setting and occasion. This outfit combo sits between formal and casual wear and is versatile enough to cover a number of scenarios.
The business casual settings work great for this combination. Causal Fridays at work provide another opportunity to pair a blazer with jeans and a pair of loafers or sneakers.
Social events such as going for dinner, and date nights are perfect for experimenting with this outfit combination. Opting for a polo shirt or even a t-shirt paired with distressed jeans for casual events adds balance to the blazer and jeans combo. For an evening out, add some business casual shoes a crisp oxford shirt with dark jeans and you're all set.
Where not to wear a blazer with jeans?
Of course, there will be occasions where a blazer with jeans would not be appropriate. these events would be formal gatherings such as weddings and black-tie events. These types of events would usually call for a full-on suit.
Other events where a blazer and jeans would not cut it, would be job interviews or events where conservative dress is called for. When in doubt, always ask what the appropriate dress code is for the event.
Choosing the Blazer
When it comes to selecting the blazer, there a plenty of options to choose from. Let's take a look at what you need to focus on when selecting the blazer.
The different types of blazers include structured and unstructured. Structured blazers typically have shoulder pads and an inner lining. You would wear this type of blazer in a formal or business casual setting. They work well with chinos, tailored trousers and even jeans.
On the other hand, an unstructured blazer tends to have no shoulder padding and can be more flexible, allowing for a comfortable fit. They work really well with jeans and chinos and should be part of every man's minimalist wardrobe due to their adaptability to look good in social and smart casual settings.
Material
The choice of material for your blazer should also come into play. Bear in mind different fabrics are suited for different occasions and temperatures.
A wool blazer offers both breathability and comfort. It can keep you feeling comfortable across a range of temperatures. Wool also looks good in both formal and casual settings.
Cotton blazers are suited for somewhat warmer weather due to the fabric being breathable.
A linen blazer is the perfect fabric to wear for when the weather heats up. The lightweight nature of linen and the crumpled and wrinkle characteristic of the fabric suits casual outfit choices.
Velvet is another good choice, although only go down this route if you're looking to make a statement.
What type of Jeans should you wear?
When pulling off this look, it should look like your blazer with jeans were made for each other. That being said, let's take a look at the different types of jeans to choose from.
Slim-fit jeans go great with both structured and unstructured blazers, straddling that fine line between casual and formal. They lend themselves well to unstructured blazers, producing a relaxed yet refined look, think causal chic.
Skinny jeans tend to partner well with an unstructured blazer. The look is definitely casual and can give off a retro look too.
The difference between slim-fit jeans and skinny-fit jeans can make a difference to the overall look of the outfit, so try different combinations and see what works best for you.
Now, on to the matter of colour. Dark wash jeans, like their indigo or black siblings, have a kind of versatility that makes them an all-star in the denim world. They are perfect with structured or unstructured blazers, and do it with ease. Whether you're off to a business-casual meeting or a dinner date, they're your go-to guys.
Light-wash jeans are the laid-back cousin in this denim family. They're a bit more casual but still worthy of a spot in your wardrobe. Pair them with an unstructured cotton or linen blazer in a complementary colour, perfect for casual settings or a relaxed brunch.
Blazer With Jeans Outfit Ideas
Light Blue Blazer With Jeans
For summer vibes, go for lighter colours. Opt for a light blue blazer paired with a shirt and regular-fit jeans. Aim for some colour coordination with the shirt and shoes, to pull the outfit together. Keep the look casual with the shirt untucked.
Beige Blazer With Ripped Jeans
In the warmer weather, a light-coloured blazer and ripped jeans give off a casual and playful look. Cuff the jeans to show off some ankle and keep the footwear to trainers or light coloured sneakers. A t-shirt or untucked shirt finishes the look.
Blue Blazer With Jeans and Boots
For some autumnal vibes in the cooler months, go for a wool blazer and add a polo neck to for warmth. Darker-coloured jeans are the order of the day here. Add some leather boots to complete the look, and cuff the jeans for some bonus style points.
Velvet Rockstar Blazer With Jeans
The velvet blazer is a statement piece if you want to get the heads turning. It looks great dressed down with skinny jeans for that rock star look.
Opt for a darker jacket and keep the colour coordinated with dark jeans to pull the outfit together. Keep the footwear to casual boots; think Chelsea boots or Chukka boots.
Grey Blazer With Dark Jeans
Dark jeans are perfect for pairing with a grey blazer and white sneakers or trainers. Creating more of a casual look, this outfit is a good option for a night out or a weekend away.
A cotton or wool blazer works with this look. Add a sweater under the blazer to keep the look informal.
Black Blazer with a Tie and Jeans
A nice mix between formal and casual is to combine the shirt and tie and a blazer with jeans combo. This look can also work for the office too, although it's probably best to tuck the shirt in.
Alternatively, for an evening out, cuff the jeans and let the shirt hang loose. Add a pair of black sneakers to complete the look.
Black Blazer With Jeans And White Polo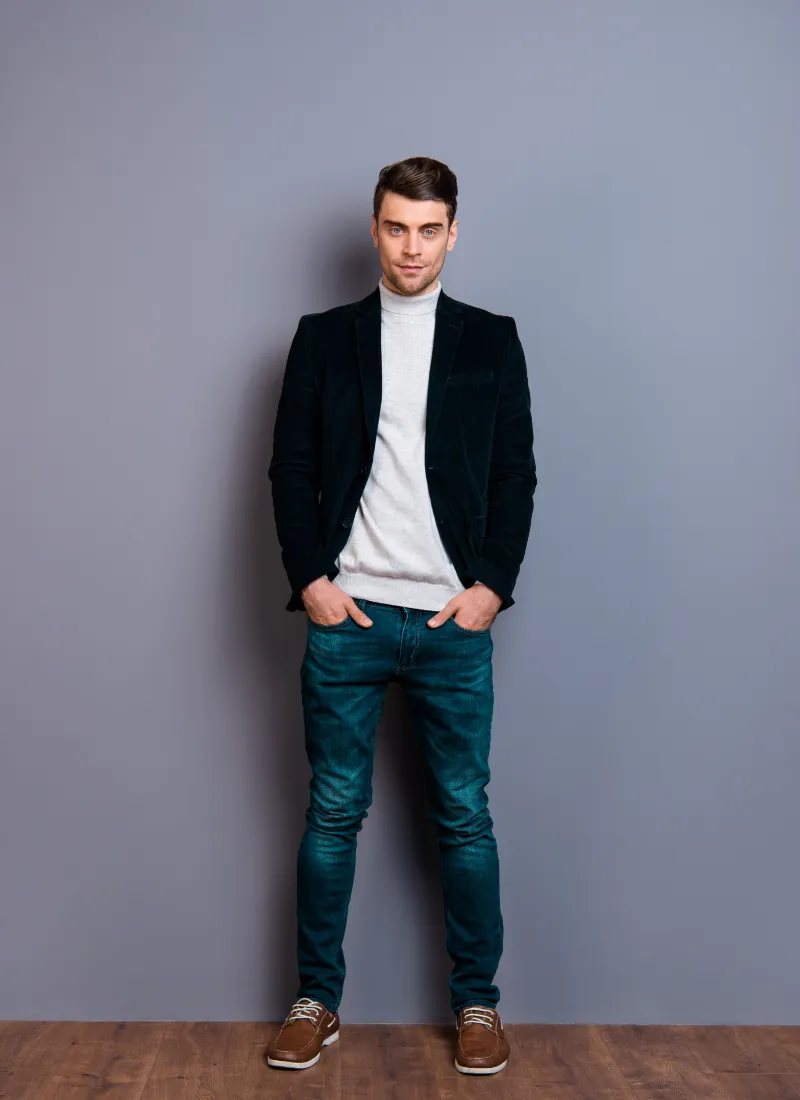 If you're looking for a casual look in the cooler months of the year, consider adding a light polo neck jumper and a dark blazer with jeans The contrast adds a silhouette to the outfit and accentuates the blazer. On the bottom half, opt for slim jeans and brown boots or shoes.
Brown Blazer With Jeans
For a versatile look that will see you head from the office to your weekend getaway, aim to combine a sweater and shirt with a blazer and jeans. This is a great outfit for travelling as the layering allows you to adapt the outfit to the fluctuating temperatures. Finish the look with a pair of monk straps shoes or business casual shoes.
FAQ's
Is wearing a blazer with jeans still a stylish choice for men?

Yes, it is. Pairing a blazer with jeans is a stylish, versatile choice that can transition smoothly from day to night and from casual to semi-formal settings.
What kind of blazer should I wear with jeans?
Both structured and unstructured blazers can complement jeans nicely. Structured blazers provide a formal edge, while unstructured blazers lean towards a more relaxed, casual style.
What colour blazer works best with blue jeans?

Blue jeans are highly versatile. They can be paired with a variety of blazer colours. However, neutral shades like black, grey, or navy blue are timeless, classic choices.
 Can I pair a blazer with ripped jeans?

100% you can. An unstructured blazer usually matches well with the laid-back vibe of ripped jeans.
Can I wear a double-breasted blazer with jeans?
For sure. A double-breasted blazer can add a touch of elegance to your outfit. Keep the rest of your outfit simple to allow the blazer to be the standout piece.