The best formal pant shirt combination is easy to get right and just as easy to get wrong. Just make sure you know how to pull off this classic combo outfit when going for this look.
Dressing smartly is an art, especially when it involves harmonising different elements of your outfit, like your shirt and pants. Whether stepping into a boardroom or heading to a formal event, the right ensemble can make a significant impression. Understanding the play of colours is paramount to ace your formal attire game.
In this comprehensive guide, we explore the world of formal pant shirt combinations, focusing on four pivotal shirt colours: blue, white, pink, and black, and four trouser colours: grey, blue, black and brown.
So if you've ever stood in front of your closet, wondering how to match your shirt with your pants, this guide is for you. We will dive deep into each colour, exploring their versatility and presenting the best ways to pair them.
And to make your fashion journey even smoother, we've included a handy FAQ section to address common queries related to formal outfit pairing.
Best Formal Pant Shirt Combination For Men in 2023
Let's delve into formal pant shirt combinations starting with pants.
Grey Pant Matching Shirt Combination
When it comes to formal attire, grey pants are easy to get right and a popular choice for many men. Their subdued tone serves as a perfect canvas, enabling a wide range of shirt colour pairings.
Try pairing your grey pants with a crisp white shirt for a modern and sophisticated look. The stark contrast between the two pieces creates an appealing visual that exudes professionalism.
Finish the look with black loafers and a matching black belt. A range of business casual shoes will also work with this outfit.
However, try shades of blue if you're looking for a more colourful option.
A pastel or navy blue shirt paired with grey pants offers a fresh, contemporary twist to the formal pant shirt combination.
A light pink shirt can soften the look while maintaining an air of formality. Keep the rest neutral to let your shirt steal pop.
Blue Pant Combination With Matching Light Blue Shirt
What can we say about Blue pants? Well, first off, they are super versatile when it comes to matching them with a shirt.
Blue, particularly navy, is a staple in the formalwear realm. White shirts are the classic choice, producing a timeless look.
For an alternative formal pant shirt combination, opt for a patterned shirt, such as stripes or checks, to add a dash of excitement.
For a monochromatic approach, consider lighter shades of blue. Pair with brown Oxford shoes or brown sneakers and coordinate the look with a brown belt.
These colours add depth to your outfit without clashing with your pants. Avoid pairing with overly bright or dark shirts to maintain balance and keep the focus on the ensemble as a whole.
Black Pant Matching White Shirt Combination
Black pants are arguably the most versatile piece in a man's wardrobe. They form an ideal base for almost any shirt colour and staple for the formal pant shirt combination.
The classic black-and-white combination is universally flattering, exuding an unmatched level of sophistication and formality. Depending on the occasion, go all out and don a pair of black braces. Add a pair of Black brogues to finish the look. Alternatively, try pairing the black pants with brown shoes.
Try pastel shades like light blue, lavender, or even soft pink if you want to branch out from the traditional. They provide a pleasing contrast against the black without overshadowing the overall look.
Bright colours can also work, but be mindful not to choose shades that are too overpowering, or you risk losing the formal aspect of your attire.
Brown Pant Matching Shirt Combination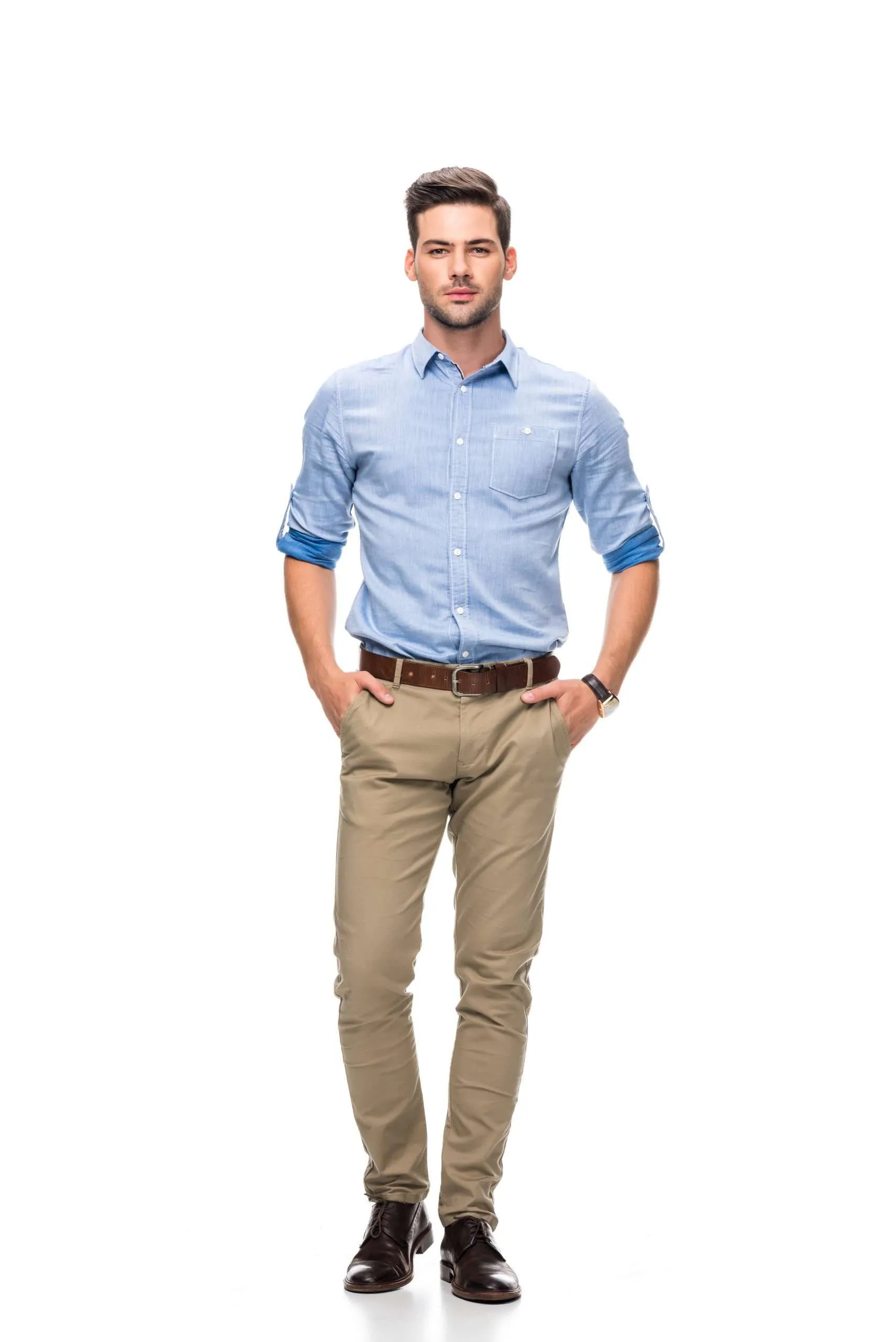 Brown formal pants are often underrated, but they do hold their own in a formal fashion sense, especially in the business casual world.
A sky-blue shirt paired with brown pants is a tried-and-true combination that channels an earthy, grounded vibe. The blue and brown create a warm and inviting professional look without being stiff.
White is another winning option with brown pants, providing a clean, sharp contrast.
For the adventurous formal pant shirt combination try a burgundy or forest green shirt. These unconventional pairings can add a personal flair to your outfit without compromising its formality.
Best Formal Shirt Pant Combination in 2023
Formal Blue Shirt Matching With Grey Pant Combination
Formal blue shirts have been a wardrobe mainstay for a while, and for a good reason. They work creatively with a variety of pant colours. In fact, any blue or white formal shirt should form part of a man's minimalist wardrobe.
For a subtly stylish look, pair your blue shirt with grey pants. This formal pant shirt combination creates a gentle contrast, making it a fantastic choice for formal events or a day at the office.
If you want to up the ante, pair your blue shirt with brown pants. The earthy tones of brown wonderfully balance the coolness of blue, providing a polished look far from boring.
You can also opt for a monochromatic ensemble by choosing different shades of blue for your shirt and pants, exuding a nautical vibe.
Formal White Shirt Black Pant Combination
Formal white shirts are as versatile as they are crisp. They have long history 200 years!.
They pair nicely with virtually any colour of pants. Consider a white shirt with black pants for a timeless, sophisticated look. This high-contrast duo is universally flattering, providing an air of effortless elegance.
If you're feeling adventurous, try teaming your white shirt with brown pants. The combination gives off a less traditional, warmer vibe, while still keeping the formality intact.
Consider an alternative formal pant shirt combination look with coloured or patterned pants. They can add an unexpected element to your outfit, providing a fresh spin on the classic white shirt.
Pink Shirt Matching Pant Combination
Pink shirts are your secret weapon to break away from the sea of blues and whites. These lively options go great with neutral colours.
A pink shirt and white pants can be an eye-catching combo and perfect for a summer outfit. The contrast lets the pink shine without overpowering the overall look.
Feeling bold? Try a pink shirt with navy or brown pants. These darker hues perfectly offset the lightness of the pink, resulting in an intriguing mix of colours.
Remember to avoid overly bright or patterned pants to let your pink shirt be the star.
Black Shirt And Pant Combination
Even though it may not be the first choice as a formal shirt, black shirts can create a sleek, modern look.
A black shirt with grey pants is a winning combo. The muted grey beautifully offsets the intense black, providing a balanced yet stylish look.
But if you're daring enough, try an all-black ensemble: black shirt and black pants. Just make sure to choose pants with a subtle texture or pattern. Think wool pants, as this will break up the monotony and add an extra dimension to your outfit.
FAQs
Can you pair a blue shirt with black pants?
Yes.  A blue shirt with black pants can work well as a combination. The key is to ensure that the shade of blue is light enough to maintain a nice contrast.
Is it okay to wear a pink shirt for formal occasions?

Yes. Pink shirts add a fresh twist to formal wear. Pair them with neutral or dark pants for a classy yet vibrant look.
What colour pants go with a white shirt?

A white shirt can be paired with almost any colour pants. Black or grey pants give a classic and timeless look. For a less conventional option, try brown, navy, or even patterned pants.
Are all-black outfits too much for a formal setting?

No, An all-black outfit can make a powerful statement. Remember to break the monotony by choosing pants with a subtle texture or pattern.
Can I mix patterns and colours in my outfit?
Yes, mixing patterns and colours can add an interesting twist to your outfit. Just ensure they complement each other and one doesn't overpower the other.
What about the fit of my pants and shirt?

The fit is crucial in a formal setting. Your shirt should be fitted but comfortable, not too tight or loose. Your pants should sit comfortably on your waist, and the length should just brush the tops of your shoes.
How do I accessorise my formal outfit?

Accessories like ties, cufflinks, or watches can elevate your formal pant shirt combination outfit. Less is often more in a formal context, so don't overdo it. Choose accessories that complement your shirt and pants combination.
 Is there a rule to follow when combining colours?

While there are no strict rules, a good guideline is to create balance. Pair lighter shirts with darker pants and vice versa. Contrast is key to a successful combination. Feel free to experiment and find formal pant shirt combinations that you feel good in.