By blending traditional formalwear with a modern twist, you can make your personal style shine while still looking sophisticated in a suit and sneakers. In this blog post, we'll delve into various aspects of wearing sneakers with suits, ensuring you look polished and stylish.
We'll discuss when it's appropriate to wear this trendy combination, who should consider incorporating sneakers into their professional wardrobe, and which types of sneakers work best with tailored suits. Furthermore, we'll provide some style inspiration by exploring different suit-and-sneaker pairings that are both fashion-forward and office-appropriate.
By the end of this post, you'll have all the knowledge necessary to confidently pull off the perfect balance between comfort and class in your outfit choices – mastering how to wear a suit with sneakers like a true fashion connoisseur.
When To Wear a Suit With Sneakers
Gone are the days when suits were only paired with formal shoes. Today, modern fashion trends have made it possible for men to rock a suit with sneakers and still look dapper. However, knowing when it's appropriate to wear this combination is essential in order not to compromise your style or professionalism.
Social Events
One of the best occasions to sport a suit with sneakers is at social events where you want to maintain an elegant yet relaxed vibe. This can be especially fitting if the dress code allows for some creativity or leans towards semi-formal attire. Pairing your suit with stylish sneakers adds an element of fun while keeping things sophisticated.
Casual Fridays at Work
If your workplace observes casual Fridays, this could be another opportunity for you to don a suit-sneaker combo without raising eyebrows from colleagues or superiors. Opting for minimalist sneaker designs will help keep things professional while allowing you some leeway in terms of comfort and personal expression.
Creative Industries & Startups
In creative industries such as advertising, design, tech startups, etc., there tends to be more flexibility regarding office attire compared to traditional corporate environments. In these settings, wearing a well-tailored suit paired with trendy kicks can make quite the statement – showcasing both confidence and individuality without sacrificing professionalism.
Dos & Don'ts When Wearing Sneakers With a Suit
Do: Ensure your sneakers are clean and in good condition. A scuffed or dirty pair will ruin the overall look.
Don't: Wear athletic sneakers with your suit – stick to more fashionable, casual styles that complement the outfit without looking out of place.
Do: Pay attention to colour coordination between your suit, shirt, and sneakers for a cohesive ensemble.
Don't: Overdo it with flashy patterns or overly bright colours on both your suit and shoes; balance is key when mixing formalwear with casual footwear.
In conclusion, knowing when to wear a suit with sneakers can help you navigate various social settings while staying stylishly on point. Embrace this modern trend by experimenting with different sneaker styles and occasions where they'll make an impact.
When it comes to wearing a suit with sneakers, the key is to ensure that your look remains balanced and sophisticated. With this in mind, who should wear a suit with sneakers?
Who Should Wear a Suit With Sneakers
The combination of a suit and sneakers is not just for fashion-forward celebrities or runway models; it's an accessible style choice for the modern man. For any man with an appreciation for contemporary fashion, this suit and sneaker combination can be a great way to add some pizazz to their professional attire.
However, there are certain factors that can determine whether this style suits you best:
Your profession: While many workplaces have embraced casual attire, some industries still require more formal dress codes. If your workplace allows for relaxed clothing choices, wearing smart sneakers with a suit could be an excellent way to showcase your personality while maintaining professionalism.
Your personal style: This trend may not resonate with everyone's aesthetic preferences. If you lean towards classic menswear styles or prefer traditional footwear options like oxfords and loafers over athletic shoes, then this look might not be right for you.
Your confidence level: Pulling off any unconventional outfit requires self-assurance. To successfully rock the sneaker-suit combo without feeling out of place or uncomfortable in public settings takes confidence in one's appearance and sense of style.
If these factors align well with your lifestyle and preferences, then don't hesitate to give the sneaker-suit trend a try. There are plenty of ways to make it work according to your unique tastes – from minimalist white sneakers paired with slim-fit suits (as seen on GQ) all the way up to bold statement kicks matched perfectly alongside tailored ensembles (as showcased by Esquire).
Adding a personal flair to one's ensemble can be accomplished by combining formal attire with casual footwear. For those who want to take this route, it's important to know which types of sneaker will best complement the suit.
Types of Sneakers To Wear With a Suit
With today's fashion trends, comfort and style must be harmoniously combined to create the perfect look. Here are some types of sneakers that can be effortlessly paired with your favourite suits:
Minimalist White Sneakers
The classic minimalist white sneaker is an excellent choice for pairing with a suit, as its clean design complements formal attire without overpowering it. Opt for low-top styles made from premium materials like leather or suede for added sophistication.
Classic Low-Top Canvas Sneakers
If you're looking for something more casual yet still stylish, consider pairing your suit with classic low-top canvas sneakers. These timeless shoes offer versatility and come in various colours to match any outfit.
Slip-Ons and Espadrilles
In warmer months or when attending less formal events, slip-on sneakers or espadrilles can add an effortless touch to your suited look while keeping things relaxed and comfortable.
Tips on Choosing the Right Pair of Sneakers:
Select high-quality materials: Premium materials such as leather or suede will elevate the overall appearance of your outfit.
Keep it clean: Maintain the cleanliness of your sneakers to ensure they don't detract from the polished look of your suit.
Consider colour coordination: Selecting a sneaker colour that complements or contrasts with your suit can create a cohesive and stylish ensemble.
Incorporating sneakers into your suited attire is an excellent way to showcase personal style while staying comfortable. By choosing the right type of sneaker, you can effortlessly elevate any outfit for both professional and casual settings alike.
Moving on, let's take a closer look at some inspiring outfit ideas for wearing sneakers with your suit.
Here are some style inspirations to help you rock a suit with sneakers.
Monochromatic Magic
Achieve a sleek and sophisticated look by pairing your suit with monochromatic sneakers. Match the colour of your sneakers to the dominant hue in your suit for an effortlessly stylish ensemble.
This look works well with darker hues. A brown suit with brown sneakers gives off a formal yet laid-back casual vibe. Alternatively, create a cohesive outfit by matching navy suits with navy sneakers. This tonal combination exudes sophistication while maintaining an element of casualness thanks to the sneaker addition. For added flair, consider incorporating dress pants or patch pockets into your suit design.
High-top Heaven
Add some edge to your outfit by wearing high-top sneakers with your suit. This bold choice adds height and flair, perfect for those who aren't afraid to make a fashion statement.
Tips for pulling off high-tops:
Pick slim-fit suits that taper at the ankle so that they don't swallow up the shoe's design.
Select high tops in neutral colours like black, white, or grey to keep the focus on your suit.
Luxe Leather Sneakers
Luxe leather sneakers elevate your outfit by adding a touch of elegance and sophistication. Opt for sleek designs with minimal branding to maintain a polished appearance.
Statement Sneakers
Show off your personality by pairing your suit with bold statement sneakers. This daring choice adds an element of fun and creativity to any ensemble.
Tips for pulling off bold patterns:
Keep the rest of your outfit simple so that it doesn't compete with the statement shoes.
Select complementary colours between your suit and sneakers for a cohesive look.
Vintage Vibes: Retro Sneakers
Add some nostalgia to your style by wearing retro-inspired sneakers. These timeless classics pair well with suits featuring vintage cuts or patterns, creating an overall vibe reminiscent of decades past.
Incorporating Sneakers Into Your Suit Wardrobe
To successfully pull off this contemporary trend, consider these tips when incorporating sneakers into your suit wardrobe:
Choose sneakers with clean lines and minimal branding to maintain a polished appearance.
Opt for slim-fit suits that taper at the ankle, allowing your sneakers to shine.
Select complementary colours between your suit and sneakers for a cohesive look.
With these tips, you can easily learn how to rock the suit-and-sneaker look and express your individual style with flair. Embrace this contemporary trend and showcase your unique personality while maintaining an air of sophistication.
Style Inspiration: Suit With Sneakers
We've compiled some style inspiration ideas that showcase the versatility and modern appeal of wearing sneakers with suits.
The Classic White Sneaker Look
The classic white sneaker is versatile enough to pair with any suit colour or pattern, creating a clean and minimalistic appearance. When paired with a tailored suit, they create an effortlessly cool and contemporary look. Opt for leather or synthetic fabrics to maintain the polished appearance of your ensemble.
This combination works best for casual events or office settings where you want to maintain professionalism without looking too formal. They are also essential items for any man's minimalist wardrobe.
Black Sneakers for Timeless Elegance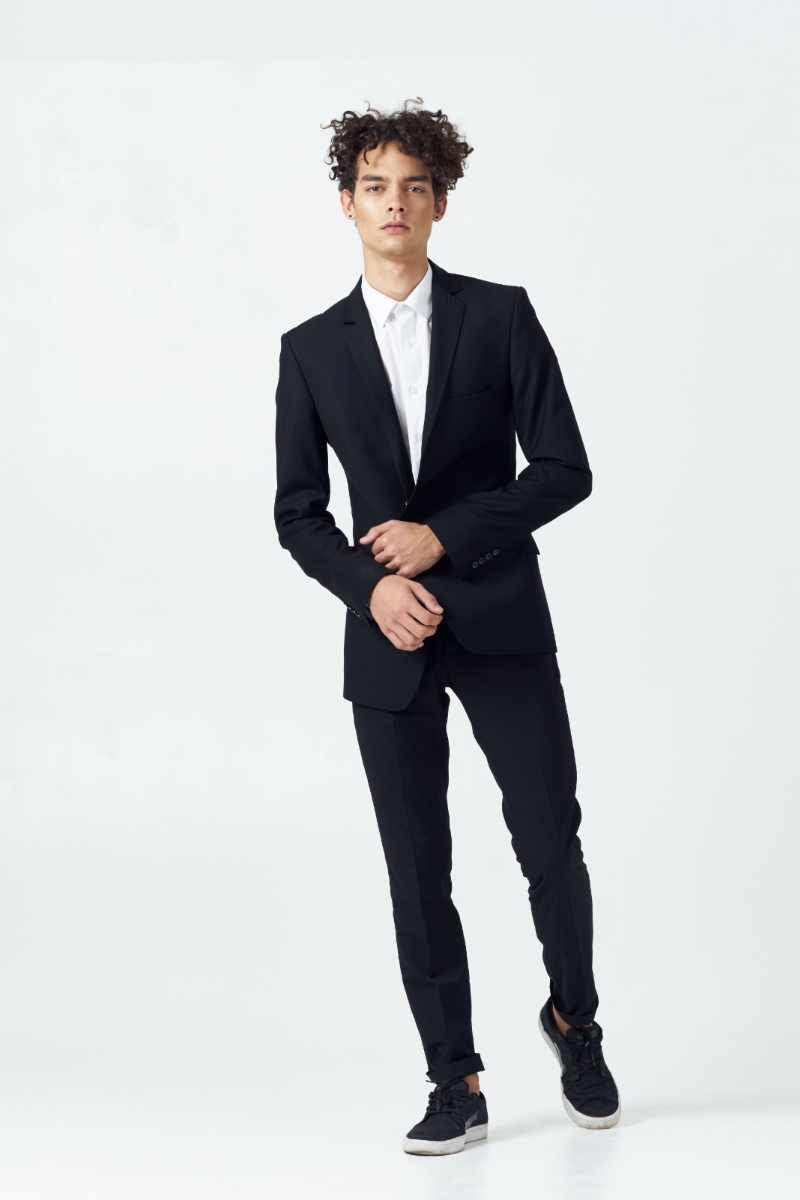 You can never go wrong with classic black footwear, especially when it comes to styling slim-cut suits and dress pants together. Pairing black leather sneakers alongside dark-toned ensembles creates an air of timeless elegance perfect for professional settings and social events.
Tips:
Select clean-cut designs without excessive branding or embellishments when choosing neutral footwear options like black or white sneakers.
Avoid chunky sneaker styles as they may detract from the overall polish provided by well-tailored suiting pieces such as blazers and trousers.
Pick comfortable yet stylish options that will keep you feeling confident throughout long days at the office or nights out on the town.
Knitted Polo Neck and Suit Jacket Combo
For a more relaxed take on suit styling, try pairing your suit jacket with a knitted polo neck jumper. This combination offers an elevated yet laid-back vibe perfect for casual
Pick a polo neck jumper which blends seamlessly with the suit. Typically a dark-coloured jumper will work well with a dark-coloured suit.
This look works a treat for those casual yet smart events. Complete the look by adding white sneakers to maintain that contemporary edge.
The White T-Shirt and Suit Look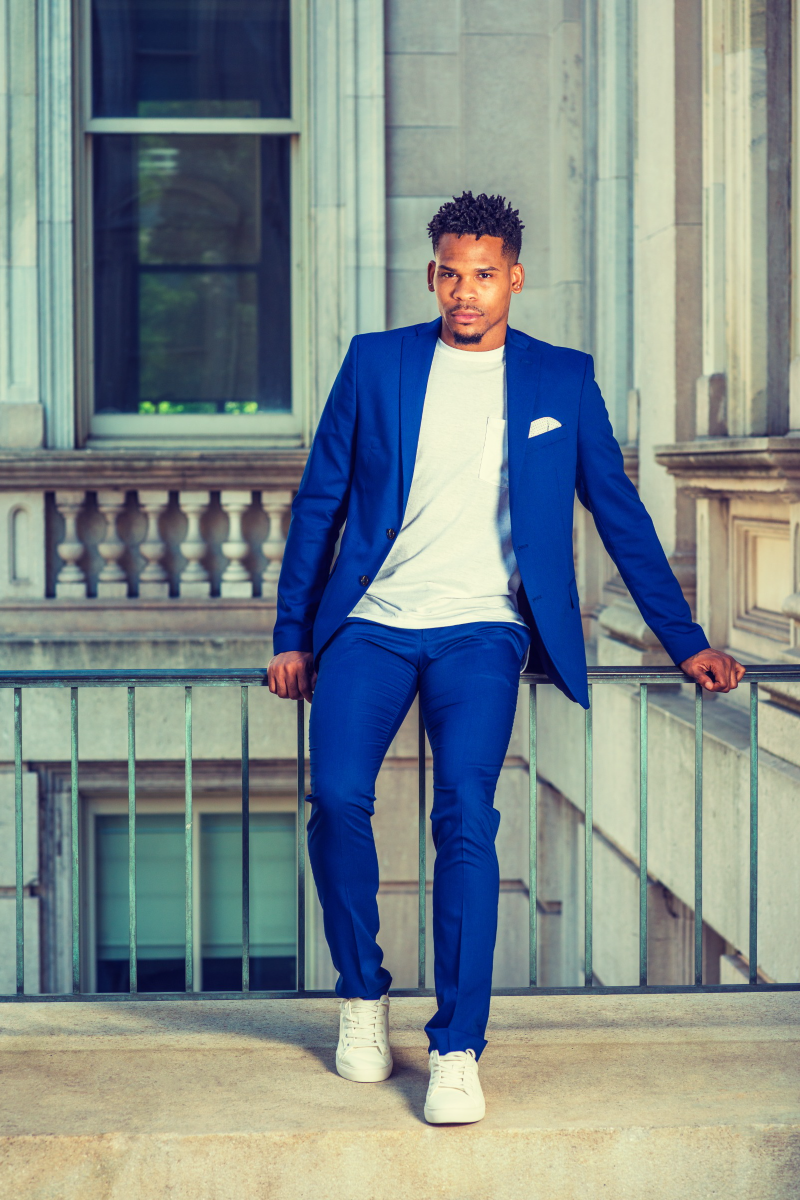 A simple white t-shirt can work wonders when paired with a tailored suit and sleek leather sneakers. This ensemble strikes the perfect balance between formal attire and streetwear-inspired style, making it ideal for those looking to make a statement in both professional settings and social gatherings alike.
Incorporating these style inspirations into your wardrobe will help you master wearing suits with sneakers like never before. Be daring and try out distinct sneaker hues, designs, and textures until you find the ones that best fit your look.
How To Wear a Suit With Sneakers FAQ
The following are some of the most common questions asked on the topic of wearing a suit with sneakers.
Is it OK to wear sneakers with a suit?
Yes, it is acceptable to wear sneakers with a suit in certain situations. This modern and casual approach works best for less formal events or creative industries. Ensure the sneakers are clean, minimalistic, and complement the overall style of your suit.
What sneakers go well with a suit?
Choose sleek, low-profile sneakers that match the colour palette of your suit. Classic options include white leather or suede designs such as Adidas Stan Smith, Common Projects Original Achilles, or Converse Chuck Taylor All-Star Low Top.
What socks should I wear with sneakers and a suit?
Select socks that coordinate well with both your suit and sneaker colours. Opt for dress socks made from high-quality materials like merino wool or Egyptian cotton. Patterned socks can add personality but ensure they do not clash with other elements of your outfit.
In conclusion, wearing a suit with sneakers is a great way to mix comfort and style. Choosing the right type of sneaker that complements your suit and occasion is important. For a casual or formal ensemble, there are many different types of sneakers that can help to boost your outfit.
By following our tips on when to wear a suit with sneakers, who should wear them, types of sneakers to wear, and getting inspiration from style icons, you'll be able to pull off this trend with confidence.