Whoever said that suiting up is stiff and boring obviously hasn't dabbled in the stylish craft of pairing a suit with a T-shirt. Once thought to be a fashion faux pas, this modern take on traditional menswear has transformed the runways and streets of fashion capitals worldwide.
The secret? It's all about balance, coordination, and making sure your outfit exudes effortless cool without looking sloppy or underdressed. Let's delve into the key steps to pull off this innovative style confidently.
Wearing a Suit with a T-Shirt: Choose the perfectT-Shirt
First things first when it comes to wearing a suit with a T-shirt, that is the foundation of the outfit, the T-shirt.
Make sure to choose a T-shirt that is of high quality, well-fitted item and it complements your physique. It should ideally contour to the shape of your body without being too tight or too loose. The shoulder seams should perfectly align with the ends of your shoulders, while the sleeves should lightly hug your arms without restricting movement.
The T-shirt should not be too long. Ideally, it should end around the hips. Anything longer and it can give an unkempt look, while anything shorter may expose your midriff, and we're not going for that look with this outfit.
Type of T-Shirt to wear with a suit
The classic crew neck T-shirt, with its round neckline, is a versatile choice that works well with most suit styles. It gives a neat, symmetrical look and is especially flattering for men with narrow faces and long necks.
On the other hand, V-neck T-shirts can add a touch of modernity to your look. The neckline sits lower down and has more of an informal look compared to the crew neck.
T-Shirt Colour and Design
The mantra when it comes to the colour and design of your T-shirt is "Keep it simple." Neutral colours such as white, black, navy, and grey work wonders, as they allow for maximum compatibility with various suit colours.
Stick to a minimalist approach in terms of design and colour. A clean, crisp white T-shirt is a timeless option, offering a relaxed yet refined vibe. Black or navy tees are also stylish choices, effortlessly complementing different suit hues.
The Suit Selection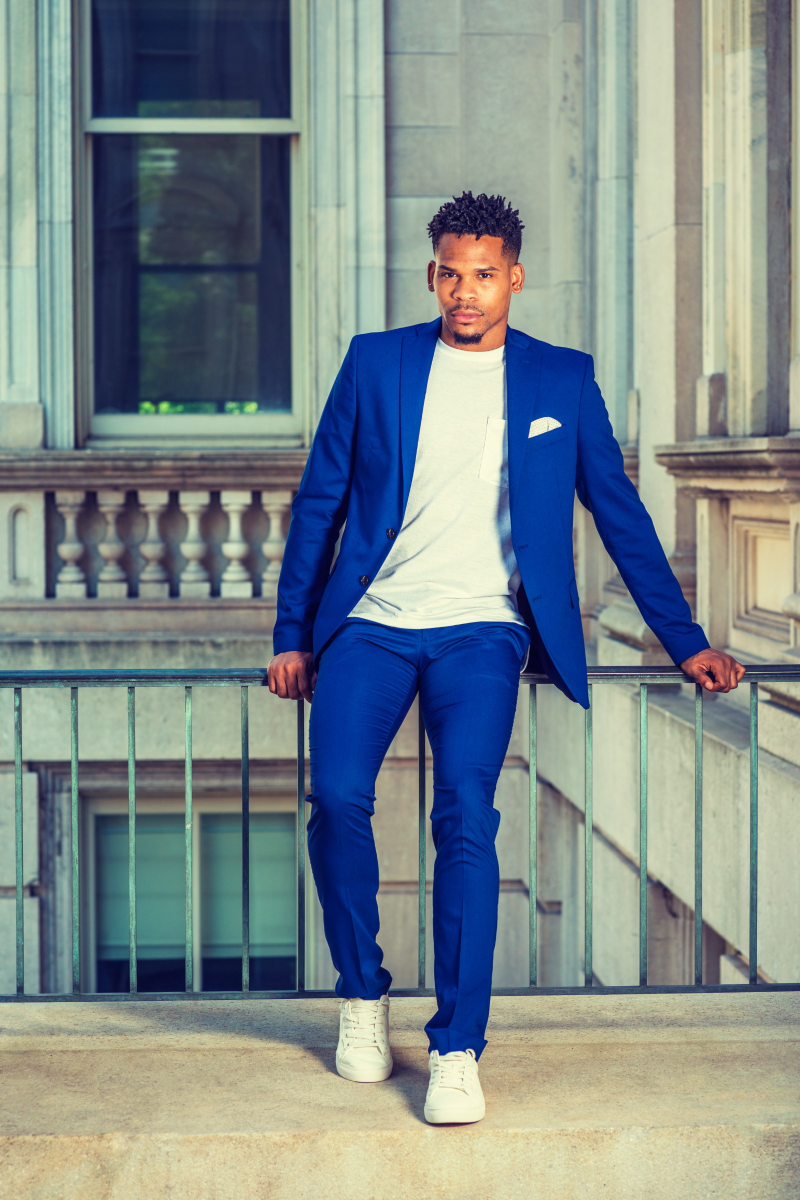 Choosing the right suit is just as important. Keep in mind that not all suits are created equal when paired with a T-shirt. A slim-fit suit is often the best choice as it offers a modern, stylish silhouette that aligns with the contemporary nature of this outfit.
Avoid the pinstripes and plaid suits, which may make your look seem overcomplicated. Solid colours or subtle patterns work best. For instance, a navy or charcoal grey suit can be a fantastic starting point. During summer, lighter colours like beige or pastel can inject a fresh, seasonal touch.
When to wear a suit with a T-Shirt?
Deciphering the appropriate occasion for the tee-and-suit combo is as essential as getting the look right. Landing in the sphere of smart casual, this cool hybrid is your best bet when the scenario calls for you to swing between too stuffy and too laid back.
Got a brunch date or a casual Friday at the office? This suit with a T-Shirt look is your ally. Evening affairs such as laid-back dinners, a cinema date, or a fun night out with pals? Your suit and T-shirt combo will not disappoint. Weddings with a breezy dress code also give you the license to rock this look, ensuring you stand out with your effortless sophistication.
Fashion weeks, the absolute playground of style daredevils, is another prime time to sport this look. As you strut the sidewalks or grace the front row, your nonchalant blend of casual and formal will earn nods from the fashionistas.
When not to wear a suit with a T-Shirt?
While our beloved suit-and-tee pair has its glorious moments, there are times when it's best left hanging in the wardrobe.
Formal and traditional settings are not the best stages for this look. Got a board meeting, a black-tie event, or a strictly formal wedding? Stick to your suit and tie. Job interviews also demand your most professional self, and turning up in a suit with a T-shirt might be pushing the envelope too far for your prospective boss.
Learning to read the room—or rather, the venue and the event—is key to deciding when it's smart to opt for this cool combo.
How to accessorise a Suit with a T-Shirt?
To keep the laid-back yet chic vibe going, choose your footwear wisely. A pair of clean, white sneakers can do wonders for your outfit, providing a relaxed edge.
On the other hand, a pair of loafers, brogues, or Derbies can increase the formal tone if that's your aim.
Accessories should be minimal. A watch can be a great addition, adding a touch of class without overwhelming your look. Also, don't forget the importance of a good belt that matches your shoes, if visible.
FAQ's
Can I wear a suit with a T-shirt to work?
It largely depends on your workplace dress code. If your office leans more towards business casual or has casual Fridays, a suit with a T-shirt can be a great choice. However, for more traditional or corporate workplaces, this might be too informal.
 What type of suit works best with a T-shirt?

Slim-fit suits work excellently with T-shirts as they offer a contemporary, sleek silhouette. Opt for solid colours or subtle patterns and avoid overly formal styles like pinstripes or double-breasted suits.
Can I wear a graphic T-shirt with a suit?

While a plain T-shirt is the safest choice, you can wear a graphic tee if the occasion is casual and the design is minimal and tasteful. However, avoid overly busy or loud graphics as they can take away from the sophistication of the suit.
Should the T-shirt be tucked in or left out?

Tucking in the T-shirt can give a more polished look, especially if your suit is on the fitted side. However, if the T-shirt has a straight hem and the event is casual, leaving it untucked can also work.
Can I wear a suit with a T-shirt to a wedding?

It depends on the dress code of the wedding. It's best to stick to the classic suit and tie combination for traditional or formal weddings.